The first book I read by Neil Geiman was Coraline. Coraline gave me nightmares and it's the first horror book I can recall reading. I hadn't read any other graphic novel or book written by Neil Geiman since finishing Coraline. When I learned David Tennant was cast in the TV version of Good Omens, it brought this book to my attention. Good Omens was a slower read for me, but I enjoyed the thick layer of satire between the lines.
*Spoilers for the book and possibly the Amazon series, though I haven't watched it yet.*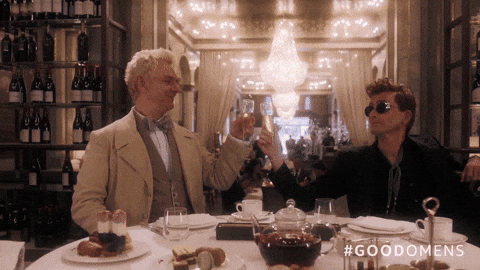 Good Omens starts with the relationship between Aziraphale and Crowley. Aziraphale is an angel and a self proclaimed biblophile owning his own book store in London. Crowley is a fallen angel working with the demons from hell. Aziraphale and Crowley have a great bromance as they enjoy their lives in England. As such, when they recognize a plot to bring the apocalypse to Earth, they team up to save the planet.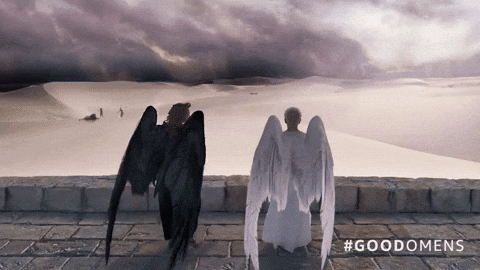 Besides Aziraphale and Crowley's relationship, there are several side plots happening simultaneously. In the beginning of Good Omens, there's a character listing which helps to keep everything straight. Anathema Device is the character I most enjoyed reading about. She's a witch and a descendant of Agnes Nutter, who wrote a book of prophecies which are slowly coming true. Anathema stands up for herself and aids Aziraphale and Crowley to prevent the Apocalypse. Anathema's relationship with Newt helps benefit her as a character as Newt allows Anathema to see how she can live her life without knowing her grandmother's predictions.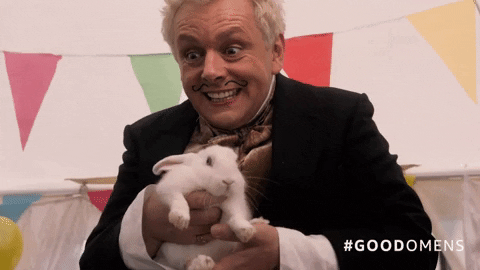 Agnes Nutter is a special witch. She's burned at the stake because of the townsfolk learning about her witchcraft. Agnes gets her revenge. As she's being burned alive, she hides gunpowder and nails inside her coat which allows her to explode, killing her fellow townsfolk. Agnes is a force to be reckoned with.
The only reason I didn't give this book five stars is because at times the story could be boring. Adam's story with his four friends didn't interest me at all, however I liked how his friend group took down the four Horsemen of the Apocalypse. My edition of Good Omens includes a section where Neil Geiman and Terry Pratchett talk about what it was like to work together in creating this book. It gives readers insight on how Neil Geiman and Terry Pratchett write which helped me like this book even more. Now it's time to watch the series on Amazon and I can't wait to see David Tennant be the sassy Devil he was meant to be.